Listen to the story:
---
The yellow vanity lights reflect on my sequinned shirt as I push open the revolving bathroom door. The strobe lights and pulsating music fade out and I make a beeline towards the first stall I see. The flimsy door immediately swings back open after I push it against the lock. Before I can roll my eyes, a pair of black platform heels appear under the door followed by a hip-check which snaps it shut.
"Do your thing girl, I got you covered," say the black heels.
The vodka lemonades I've consumed mean I don't think twice before passing my new bathroom gal pal my trusty Fenty lip gloss to say thanks.
For a lot of women, the washroom is a sacred place. We have meltdowns on the toilet, blot our faces, and convince our friends to absolutely not text that ex. For whatever reason, there is a lot of serious psychological unpacking going on in between the stalls. Public bathrooms provide privacy, conversation, and community.
While I often travel to the bathroom in pairs to gossip or deliberate with other women, I've noticed men usually get in and out. Regardless of your gender, humans have a biological need for privacy when using the bathroom.
---
Old English oak leaves in shades of red and brown floated down the stairwell in the tube station while I made my way up onto the street. It was a month after my 19th birthday and a month and a half since I had moved to London, England from Winnipeg. I decided working as an Au Pair abroad would be an acceptable job for my gap year. I had long anticipated the challenges, memories, and relationships waiting for me in this new city, although I hadn't predicted what was going to happen that October night.
I had made one promise to myself within my first month in London: say "yes" as often as possible. This promise led to many pub crawls, dinner dates, and inevitable trips to the loo. This evening was the result of me saying "yes" after a date proposal from a young man I met online.
The Belle Vue is a pub I passed every day while commuting to work. It was the perfect location for a first date. I admired the painted green brick as I approached the pub doors and attempted to spot my date through the windows blurry with condensation. I took one last look at the mystery man's profile photo on my phone: dark hair, broad shoulders, and a stunning smile.
The date was going well. After my third or fourth gin and tonic my body relaxed, my judgment faded, and my date shifted his barstool a few inches closer, nearly knocking over his lager. This caught me off guard, and I suddenly remembered I was in a foreign city with a stranger. I wasn't sure if it was because he was handsy, or because he kept asking uncomfortable questions, but something felt off. As my date slurped his drink and his freckled hand grazed my upper thigh, I did a quick scan of the room and began plotting my escape.
The pathway to the door was now obstructed by groups of people, tables, and chairs. My black-lined eyes circled back to my drink, and I finally spotted the sign for the ladies' room: a familiar lit-up stick figure wearing a dress. There was my exit.
With adrenaline rushing through me, I twisted the rusty golden doorknob and shoved the heavy wooden door open, letting out a sigh.
"Are you alright babe?" asked an older woman fixing her brown lip liner over the sink.
I felt an immediate wave of relief hearing those familiar words. I'd asked plenty of girls back home the same thing. I explained my situation to the woman and her seemingly intoxicated gal pal in the stall behind us — they said they'd seen me sitting with him and knew something was up. I realized the women were locals and knew the owner of the pub. After sharing a cigarette and bonding over horrible date stories, they escorted me out the pub's back entrance and waited with me until we waved down a black cab.
Caroline Criado Perez is a British feminist, journalist, activist, and author of Invisible Women: Exposing Data Bias in a World Designed for Men. One particular chapter in her book sticks out to me — "Gender Neutral With Urinals." In this chapter, Perez notes that women statistically require more trips to the washroom than men and tend to spend more time there.
For a lot of people, including myself, going to public bathrooms is generally an easy, risk-free task. I know a lot of women experience uncomfortable situations with men in their lives, but I've generally viewed bathrooms as safe havens, especially for situations like that night in Belle Vue. I realize that's not the case for everyone.
Many trans and non-binary folks have experienced harassment and worse in public bathrooms. Others may have heard about rare cases of men following women into bathrooms.
"The perception that public bathrooms can be dangerous places comes from extreme, attention-grabbing cases," says Cynthia Calkins Mercado, a licensed clinical forensic psychologist.
Uneasiness is easily projected onto younger generations and children may pick up on it at a very young age. For example, parents usually don't think twice about taking their little ones into a public bathroom, but after a certain age, they may begin to wonder if it's still okay for a dad to take his daughter in the men's room, or if a mom should keep her son out of the ladies' room.
---
The Chicago sun made my dark hair hot to the touch while my inner thighs chafed between blue Daisy Dukes. The smell of deep-fried delicacies wafted toward me, and my family and I began our walk down the Navy Pier — to my 15-year-old self, the sights and sounds were overwhelming.
I took the last sip of my strawberry lemonade in the seemingly never-ending line to ride the Centennial Wheel. I knew an iconic view of Chicago's skyline awaited me at the very top of the ferris wheel, but an urgent need to pee interrupted me.
The gender-neutral bathrooms, where I could see a diverse bunch of people walking in and out, were close by, but the thought of being vulnerable in a public place was making me uneasy. I was searching for the familiar signs of a women's bathroom and weighing the consequences of leaving the queue.
Then I saw a young girl walking out of the bathrooms. She was wearing an outfit identical to mine and had similar long dark hair. It was as if I was seeing double. There's no possible way she just went to the bathroom in there, I thought to myself. I thought my requirement for privacy would be compromised if I went in there. Am I the only one who can't pee in the same room as boys?
Feeling anxious about public restrooms was a new feeling. My girlfriends and I went to the bathroom together all the time in shopping malls and at school every day. But seeing someone so similar to me walk out of that gender-neutral bathroom made me wonder if we were just behind the times in Winnipeg.
As the line to the Ferris wheel grew, so did my urge to pee.
I could feel my sister's frustration as she held up a sweater and stood on look-out while I crouched down behind an old recycling bin on the outskirts of the pier. I couldn't find the courage of my doppelganger.
It's something we do multiple times a day. For most, it's an action that comes easy, but for others, public bathrooms bring immense fear. My few uncomfortable experiences are incomparable to those of people whose identity has never fit into a category on the bathroom doors.
Every person should feel safe when they are in their most vulnerable state. Gendered symbols for bathrooms were set centuries ago and reinforce outdated gender stereotypes that erase non-binary people. The public bathrooms we use at restaurants, stadiums, and shopping centres are mediators of gender, with its mostly cisnormative occupants to police them.
According to a survey surrounding the experiences of trans people in North America, 59 per cent say they've refrained from using bathrooms outside their homes in the past year due to confrontation and fear. Twenty-four per cent were asked at least once in the past year if they were in the right bathroom, and nine per cent were completely denied using the bathroom at least once. Worst of all, twelve per cent were harassed to some degree and/or attacked while using a bathroom in the past year.
Media coverage of gender-neutral bathrooms in North America often focuses on a false dichotomy: the equality for non-binary and trans people versus safety for cis individuals. Instead, the media should be encouraging the public to unlearn what they've been taught.
While gender neutral bathrooms have often been poorly framed as exclusively an accommodation for trans and gender-nonconforming individuals, the conversation should be reframed to focus on the extensive societal benefits for everyone.
It's time for us to unpack people's discomfort around gender neutral bathrooms.
"As a gender nonconforming person and a member of the trans community I find that I'm constantly stuck between a rock and a hard place, or in this case, between a stall and a urinal," says transgender teen Nicole Maines, in a Time article, "Why All Bathrooms Should Be Gender-Neutral".
Labelling public facilities by the amenities they provide, rather than the gender of the people who are supposed to use them is a step closer to removing the gender binary from society.
---
Alice, the eldest of the three girls I Au Paired for in London, who has chewed nails and freckled knuckles, takes my hand as we join the stagnant queue for the ladies' room. The line, moving at a glacial pace, is wrapped around Hyde Park on this particularly hot summer day. After ten minutes, I notice her tiny frame shifting from foot to foot in her outgrown Mary Janes. Her legs are crossed tightly and her cheeks are beginning to flush. I realize we may not make it in time and start looking for an alternative.
I suggest the family bathroom, which has little to no line. I begin walking over, but realize Alice isn't moving. Her stockings are still pressed together at her bony knees. Alice simply shakes her head at me as a man and young boy enter the family bathroom entrance.
"I can't go in there," she mutters.
It's clear: we need to start running the six blocks home, or I need to find a private alternative right this second. The row of bushes bordering a man-made forest catches my eye and we begin our half run, half speed-walk over. While I'm covering the young girl crouched down behind a tree, something clicks for me: at nine-years-old, Alice has already developed the same perception I had at the Navy Pier a few years earlier.
Where does this discomfort come from? And how does gender segregation play into that?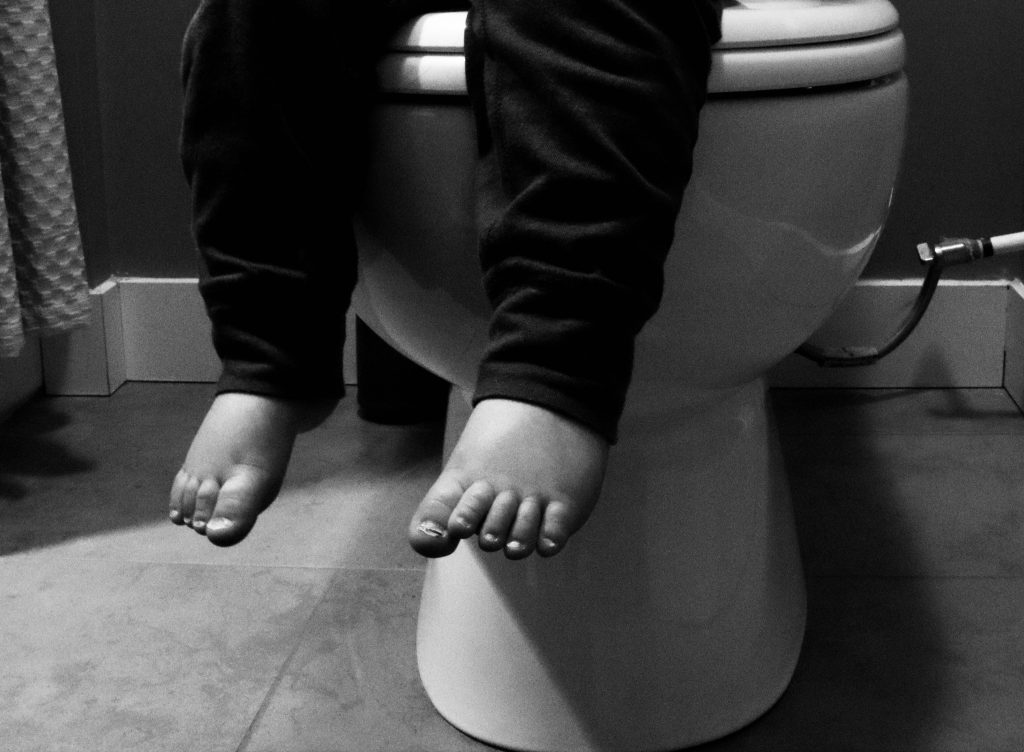 The first gender-segregated public restroom on record was at a Parisian ball in 1739, said Sheila Cavanagh, a sociologist at York University and author of Queering Bathrooms: Gender, Sexuality, and the Hygienic Imagination.
A lot regarding gender norms has changed since then, except for public bathrooms. For the most part, public bathrooms in Western nations were male-only until the Victorian era, meaning women had to improvise. This separation between genders today is sometimes enforced by local laws and building codes, but it's also engrained in society.
Could the fact that women were left to fend for themselves in terms of bathrooms for so many years contribute to women and girls feeling a strong sense of community toward them today?
Victorian-era North Americans were segregated by gender in many places including waiting rooms, libraries, and train stations. Gender segregation has dissipated in most areas since then, except in bathrooms.
These same bathrooms, which separate us by our biology, are the same ones partitioned with inch-wide gaps between stall doors, partly because of what people fear might go on in a fully private stall — whether it be sex or drugs. Society continues to abide by these rigid rituals to keep up an illusion of privacy.
The disgust attached to excretion makes many people uneasy, therefore people are concerned about being watched or witnessed in the act — even if it's indirect. Societal pressures on women, and the outdated perception that excretion is unfeminine, put women under particular pressure to keep bathroom activities hidden.
I don't blame Alice for what went on that day. In fact, I completely understand it. The second-hand feelings that have shifted on to her from her elders and society would have made her feel vulnerable and exposed if I had forced her to go into the family washroom. Ultimately, her discomfort — and the fear some people express about gender neutral bathrooms — has more to do with the symbolic nature of public restrooms than with practical concerns. So how do we move forward?
Eliminating every person's fears around public bathrooms isn't possible, so there's no point trying to achieve that. I believe the long-term goal should be to reframe how the public thinks about and responds to gender-neutral restrooms by gently nudging ourselves and those around us to see the advantages and equality that come with a gender-neutral environment.
---
The air inside the café is toasty, the people around me are laughing, and my need to pee is urgent. I ask my friends if any of them need to go. They politely decline. I walk myself over to the bathroom facilities and enter the door without a second thought. Toilets are flushing and sinks are running.
I can see kitten heels and working boots, ranging from sizes four to eleven, in the gaps between the floor and stall doors.
Everyone, no matter their gender, is there for the same reason — everyone is in the same vulnerable state. Zippers and pants go up and down in each stall. I shake my hands dry and walk back to my breakfast. There is comfort in commonality, there is comfort in community — even in a bathroom.